Former CEO Eric Schmidt says Google will make sure that HTC doesn't lose its suit against Apple
92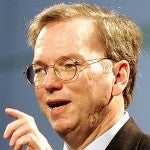 During a speech at the Google Mobile Revolution conference in Tokyo, Japan, executive chairman and former CEO of the Mountain View based company, Eric Schmidt, vowed to help
HTC win its patent infringement suit
against Steve Jobs and Co. The ITC recently decided that Taiwan based
HTC is violating two Apple patents
, a decision that threatens all Android models yet to be launched. Schmidt chided Apple, where he once had a seat on the board, for responding with
lawsuits instead of innovation
.
Although he didn't say Apple by name, Schmidt said, "
We have seen an explosion of Android devices entering the market and, because of our successes, competitors are responding with lawsuits as they cannot respond through innovations. I'm not too worried about this
." Besides Google, HTC also has criticized Apple recently for using lawsuits instead of fair competition in the market. Schmidt said that he feels confident that Google will get the
ITC to overturn the initial ruling
from an ITC judge that said HTC illegally used two patents held by Apple. The entire commission must review the judge's decision before it is final.
When all of the legal dust has settled, Apple could end up receiving a nice revenue stream from Android sales. The company could join Microsoft which already
earns about $5 in revenue from each Android handset sold
by HTC, thanks to royalties from patents owned by the company. Ironically, the software giant is said to make more money from the royalties it collects from each Android sale than the money it makes from shipping its own Windows Phone 7 OS. If the victory over HTC is upheld, it could pave the way for Apple to collect money from other Android manufacturers like Motorola and Samsung.
source:
AppleInsider