For reasons unknown, Huawei has removed all EMUI images from its website
13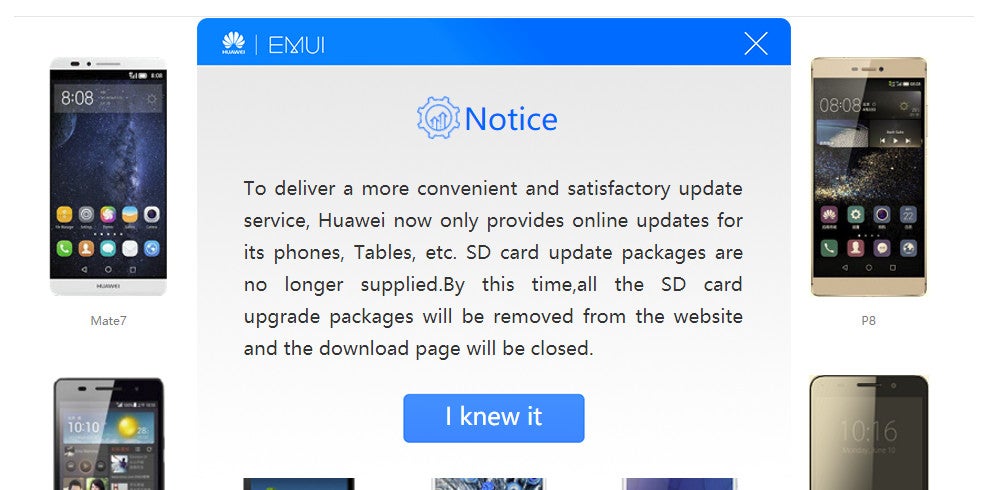 In a surprising turn of events, Huawei has decided to remove all
EMUI images
for its smartphones from its official website. Usually, Huawei smartphone owners could download and flash ROM images from a dedicated website, which came in handy when new versions of EMUI would be uploaded by the Chinese company.
Now when you visit Huawei's website that was hosting the download links, you are met with a message that informs you all EMUI images have been removed.
To deliver a more convenient and satisfactory update service, Huawei now only provides online updates for its phones, Tables, etc. SD card update packages are no longer supplied.By this time, all the SD card upgrade packages will be removed from the website and the download page will be closed.
Huawei did not provide any reasons behind its decision to remove the EMUI images from its website, so your guess is as good as ours. We doubt the Chinese handset vendor plans to drop EMUI,
its Android skin
, for a simpler UI that doesn't involve any bloatware, so it must be something related to resources spent for this particular project.
Perhaps Huawei wants to redirect these resources to other projects that are considered more important. Well, let's hope the company will indeed offer "
a more convenient and satisfactory update service
" going forward.