Follow up arcade style video pits the iPhone 4S against the T-Mobile Samsung Galaxy S II
16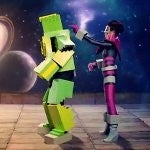 Now that the
deal is officially off
, T-Mobile can once again go forward attacking its competition untethered on the video advertising font – though, we don't think that ever stopped to begin with. In fact, the last time we checked, they posted one ingenious video advertisement that pitted the
Apple iPhone 4S against the HTC Amaze 4G
.
After getting its butt kicked, it appears that the iPhone guy just couldn't help himself to take yet another challenge against a new female competitor – who happens to using a
T-Mobile Samsung Galaxy S II
. Using the same arcade style format as the last time, this new video is once again filled with a lot of laughs and over the top satire to show off the prowess of the Samsung Galaxy S II.
Well, you probably know how this one is going to all end, and unsurprisingly, the Samsung Galaxy S II combats its foe with its impressive large display, 'faster' dual-core processor, speedy 4G connectivity, and savings with a T-Mobile plan. Trust us, you'll have a smile after watching this video.
source:
YouTube
via
TmoNews