Flagship Killer? Purported OnePlus 3 benchmarks suggest a version with 6GB RAM
46
It was hotly rumored that the
OnePlus 3
would be
unveiled earlier this month
at a special event, though the Chinese firm quickly
put paid to those suggestions
. Specs and details of the handset have hitherto been at a premium, though AnTuTu did
recently offer glimpse
of what OnePlus model number A3000 might entail. Now the OnePlus A3000 codenamed 'Rain', along with an apparent alternative variant numbered A3003, has been spotted through both GFXBench and Geekbench.
According to the new findings, models A3000 and A3003 will pack Qualcomm's Snapdragon 820 processor, which isn't too much of a surprise. What is rather eye-opening, however, is the indication that model 'Rain Rain A3000' could house a whopping 6 GB of RAM, as shown in the following Geekbench screenshot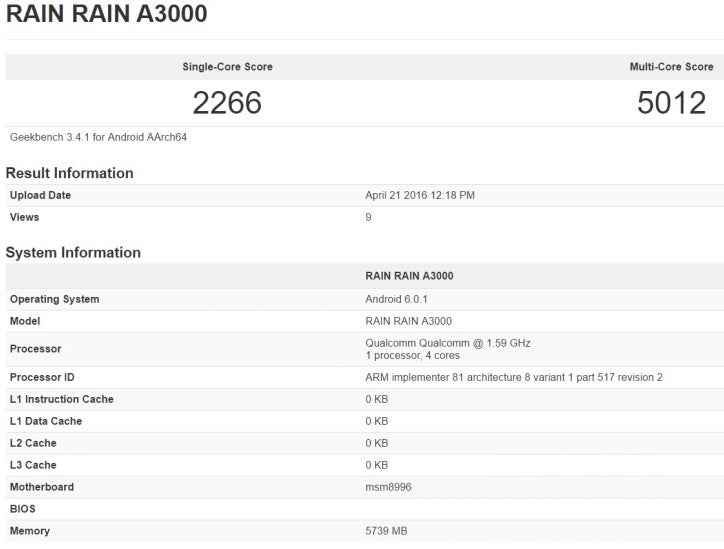 It should be noted that both the AnTuTu and GFXBench have the 'Rain A3000' instead running on 4 gigs of RAM, which could indicate that 'Rain Rain A3000' is a different, potentially stronger version. With quite a few bits of scattered information currently doing the rounds, though, we're keeping a
very
open mind with regards to what's in store.
These apparent OnePlus 3 variants could bundle 64 GB of internal memory along with NFC. Each may include a front 8-megapixel shooter for selfies, and a 16-megapixel snapper to the rear complete with 4K video capture. The specs also round up the usual connectivity suspects, including NFC, Bluetooth and GPS.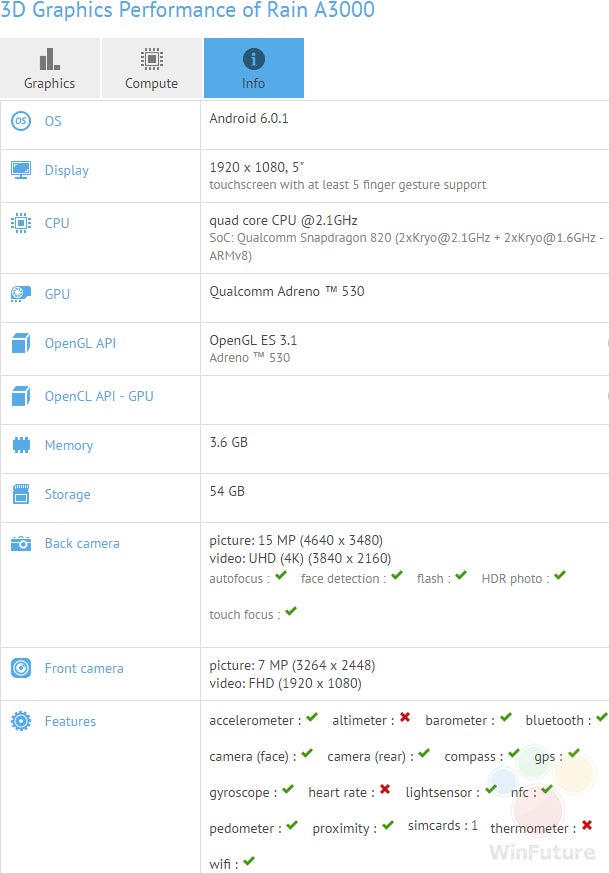 We would expect the full-HD panels to be 5.5 inches in diameter, similar to the sizing of the OnePlus 2. Just to add a little more confusion to proceedings, though, recent GFXBench stats
(right)
suggest the Rain A3000 may include a 5-inch panel. If true, it's possible that this device will be a successor to the
OnePlus X
, rather than being the enigmatic OnePlus 3.
OnePlus has risen to prominence and forged a cult following in the crowded smartphone business, though its announcements and launches haven't always gone too swimmingly. The invitation system has proved arduous and frustrating at times for fans, and despite a fair amount of hype, the OnePlus 2 didn't exactly live up to its quizzical
'Flagship Killer' billing
.
It seems that the company is taking its time to ensure that every meticulous detail is catered to this time around, and with these specs popping up all over the place, an official unveiling could be just around the corner. Speaking of which, Chinese site
ifeng
believes that the OnePlus 3 will be showcased next month on May 28, and could make retail by June 6th.
What would you like to see from OnePlus this year? Let us know in the comments.