Five iOS apps that can really save your life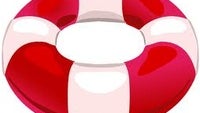 Unfortunately, everybody gets into serious trouble from time to time. Whether it is getting lost while camping in the woods, getting in a bad car accident, or being assaulted in a dark, narrow street, we have all been in at least one critical situation that has required one to act immediately in order to save someone's or their own life. In such extreme scenarios, your smartphone can actually help you out in more ways than just calling 911. Among the tons of mobile applications, there do exist quite a few that are meant to assist you in emergencies of all sorts, and even though some may cost a dollar or two, these apps may definitely prove priceless should you resort to using them some day.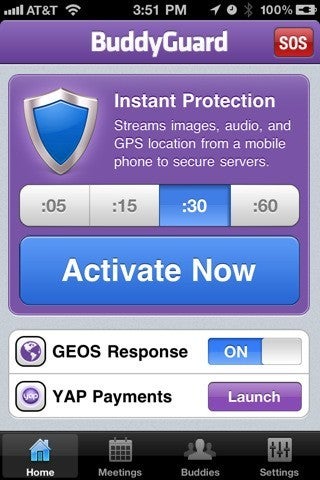 BuddyGuard
| iOS 4.0+ | Price: Free with optional premium subscription
Designed to help you out when your personal safety is at stake, BuddyGuard works by logging your smartphone's location via GPS along with audio and visual information, a bit like a personal "black box," if you will. The data then gets stored on a remote server and can be immediately accessed by you or by anyone to whom you have given permissions to do so. So for example, next time when you have to meet someone who you do not trust, just launch BuddyGuard in advance and let it start logging data. If the going gets tough and you get threatened or attacked, you will have audio and maybe even photos, which you can later use in court as evidence. Furthermore, the application can trigger an alarm if you happen to fall on the ground or if you get into a car accident because it constantly monitors the smartphone's accelerometer. In that case, everybody on your predetermined buddy list will be notified in seconds with a text message containing your exact coordinates.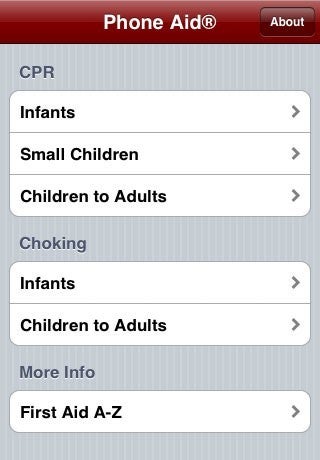 Phone Aid
| iOS 2.0+ | Price: $1.99
Phone Aid is a first aid handbook that has proven to be capable of saving lives. Some of you may have already heard of Xavier Jones – the teenage basketball star of La Verne Lutheran High School in California. With a little help from Phone Aid's illustrated guide to performing CPR, the teenage athlete was brought back to consciousness after his heart stopped unexpectedly in the middle of a game.
Besides guiding you through the steps of performing CPR, Phone Aid may actually come in handy in quite a number of other critical situations. From strokes to bee stings, from broken bones to nosebleeds, the application provides quick and easy access to the proper ways of treating a great variety of health-threatening conditions.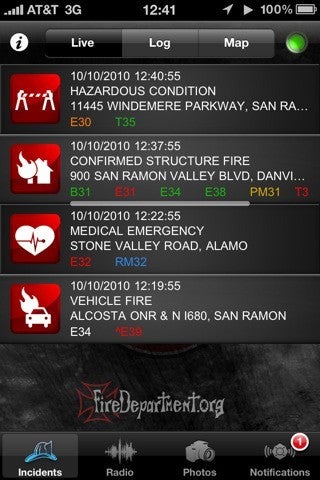 Fire Department
| iOS 4.2+ | Price: Free
Even though it only works on the territory of San Ramon Valley suburb of San Francisco, California, Fire Department is a brilliant example of how a mobile application can save lives when given the right circumstances. Lets say that you are a CPR-certified resident of the area and you are willing to help when somebody is in trouble nearby. After downloading Fire Department, a push notification will inform you every time when a medical emergency gets reported to the local 9-1-1 dispatch center and a virtual map to the location of the incident will be displayed on screen. It may rely on help from volunteers only, but the application has more than 22,000 participants already. We sure hope to see Fire Department spreading nationwide very soon.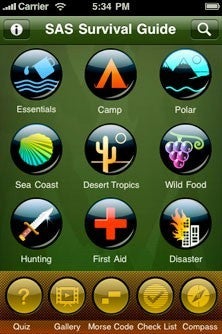 SAS Survival Guide
| iOS 3.0+ | Price: $6.99
When you are stranded somewhere in the wilderness and Bear Grylls is not around, SAS Survival Guide is probably the best app that you can use in order to survive until the time you get rescued. The application provides priceless tips about handling pretty much any trouble that you may run into – finding food and water, lighting a fire, building yourself a shelter, and, of course, signaling for help. SAS Survival Guide also features a rich multimedia gallery where you can learn more about the poisonous creatures that lurk in the wild, how to navigate at night with a little help from the stars, and how to make yourself a pocket-sized survival kit.
Marine Martial Arts
| iOS 3.0+ | Price: $1.99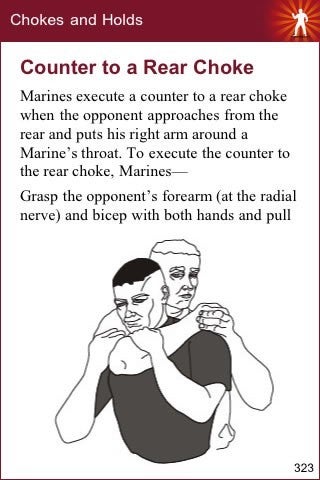 Like G.I. Joe always says, knowing is half the battle. So, if one unfortunate evening someone tries to rob you in the street, you better know how to react accordingly. Marine Martial Arts is a great app that guides you through the combat techniques used by the U.S. Marine Corps. There are no flashy, movie-style fight moves described here – just 500 pages of essential content covering both armed and unarmed close range confrontations. The best thing is that the app does not require one to have any kind of martial arts background. All that you need is willingness to learn and a buddy to practice with. Of course, one app will not make you a super hero all of a sudden. It is strongly recommended that you carefully work the techniques out in order to get comfortable with them. Or how about signing up for a real training course?