Fitbit Blaze smartwatch has compatibility issues with Windows Phone devices
5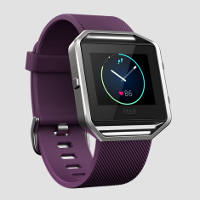 Earlier this month,
we told you about the Fitbit Blaze smartwatch
. The Blaze will track your heart rate and workouts, measure the calories you've burned in a day, track your sleep and monitor your fitness goals. It also will go five days before requiring a charge. The Blaze pairs with your iOS and Android handset to alert you to phone calls, texts and calendar events.
The Blaze was supposed to also offer such notifications when paired to a Windows Phone, but there is an issue that is preventing this from happening. While those using a handset powered by Microsoft's mobile OS can still sync the Fitbit Blaze to the Windows Phone's Bluetooth, there will be no notifications about texts or calls because Windows Phone does not use a GATT server.
While Fitbit says that it is working with Microsoft on a solution, the company said the exact same thing in October in reference to another Fitbit device. If you own an iPhone or Android handset, checking that phone's compatibility with the watch using the Blaze website shows "Call and Text Notifications" under the list of features. Enter the name of a Windows Phone handset, and that feature no longer appears.
"You will be able to sync Fitbit Blaze with your Windows Phone Bluetooth, but unfortunately call/text notification are still in the process of verification because the Microsoft Windows platform does not provide a GATT server. Fitbit leverages this technology to provide notifications on our hardware. Microsoft and Fitbit are working together to bring a solution as soon as possible"-Fitbit
Perhaps Windows Phone users wouldn't mind as much if Fitbit had a target date as to when the call and text notifications would be available. But keeping mum on the matter makes it sound as though Fitbit will never find a solution. If you are a Windows Phone user who is considering the Fitbit Blaze, it is important to realize that you will not be getting the same features out of the box that iOS and Android users will be enjoying.
Available in Black, Blue or Plum, you can pre-order the Fitbit Blaze from the manufacturer's website for $199.95. If interested, click on the sourcelink.
source:
OneTechStop.net
via
WMPoweruser