First phone committed to Snapdragon 865 Mobile Platform is announced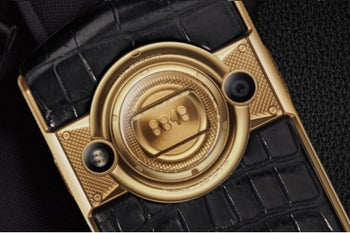 Earlier this month, we told you that Qualcomm could introduce its next flagship chipset, the Snapdragon 865 Mobile Platform,
as soon as next month
. Not much is known about the component other than the fact that it will be manufactured by Samsung. The latter is taking over foundry duties for Qualcomm's top-of-the-line SoC from TSMC, but don't feel bad for the world's largest independent foundry; not only does it have all the business it can handle at the moment,
it also will be producing 2021's Snapdragon 875 Mobile Platform
.
Of course, there have been rumors about two variants of the Snapdragon 865, one with an embedded 5G modem. And today,
according to MyDrivers
(via
WCCFTech
), a Chinese luxury smartphone and watch company named 8848 became the first manufacturer to announce a new phone to be powered by the Snapdragon 865 Mobile Platform. We think that once you see the name of the phone, you'll immediately know which version of the Snapdragon 865 chipset will be used on 8848's handset. The device is named the Titanium M6 5G, and it is expected to do some heavy damage to consumers' wallets.
Now to be sure, just because 8848 is the first company to actually make a formal announcement about using Qualcomm's upcoming flagship chipset in its phone, it doesn't mean that the Titanium M6 5G will be the first device released to sport the component. Many have expected the Samsung Galaxy S11 to have that honor. But it is just too darn early to know for sure. If we asked you which phone was the first to sport the Snapdragon 855 Mobile Platform, dollars to doughnuts you'd say the
Galaxy S10
. But you would be wrong. The
Xiaomi Mi 9
was actually the first although Sammy's phone is credited with being the first
global
handset to use it.
The Titanium M6 5G will connect with real live assistants instead of a digital one

The Titanium M6 5G will be equipped with a 6.01-inch AMOLED screen, and we think that you already know what will be found under the hood. It will have 12GB of memory and a whopping 1TB of storage. Thanks to the use of advanced interpolation, it will feature a 64MP camera that takes 100MP images. But get this. Instead of being able to connect to an AI-based digital assistant like
Google Assistant
, those with the Titanium M6 5G will speak with
live
assistants. That sounds bonkers to us, but 8848's president, Zhou Jia, says that digital assistants don't give users quality service. As a result, the executive admits that his phone will offer help in the most "stupid" way.
The Snapdragon 865 Mobile Platform will be manufactured by Samsung using its 7nm EUV process. The 7nm refers to the number of transistors that can fit inside the chip; the smaller the number, the more transistors are inside. And with more transistors inside, the more powerful and energy-efficient these integrated circuits are. Consider that the version of Huawei's Kirin 990 chipset with an enabled 5G modem is stuffed with 10.3 billion chips inside. Both TSMC and Samsung expect to manufacture 5nm chips by next year; such chips will contain 171.3 million transistors per square millimeter. TSMC and Samsung have roadmaps that take them to the 3nm process as soon as 2022. TSMC is reportedly working on ways to keep Moore's Law alive. This is the observation made by Intel co-founder Gordon Moore that calls for the number of transistors in integrated circuits to double every other year. The Taiwan based manufacturer is looking at ways to mount transistors vertically instead of side-by-side to squeeze more inside a chip. It is also looking for other materials to replace the silicon used to produce integrated circuits.

The EUV part of the 7nm EUV process stands for extreme ultraviolet lithography. This is a technology that uses ultraviolet beams to more precisely mark up a chip for transistor placement. The more precise and fine these markings can be made, the higher the number of transistors that can be placed inside.