First generation Motorola Moto 360 now costs only $99.99 (in the US)
12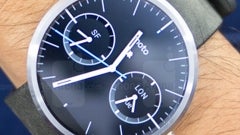 In case you want to buy an Android Wear smartwatch, but you're not necessarily interested in a model released this year, you could consider getting the
first generation Motorola Moto 360
. That's because this particular device is now cheaper than ever - at least in the US.
If you're buying the original Moto 360 from Google Store, you'll be paying just $99.99 for it, and Google can ship it to you for free. It's not clear if this is a limited time offer - we assume that it isn't, since the first-gen Moto 360 is now over 1 year old, so the $99.99 price tag might very well be permanent.
Meanwhile, the
second generation Moto 360
(released not long ago) is sold for prices starting at $299, being available in two sizes - with screens of 1.56 inches, and 1.37 inches - while the original Moto 360 only comes with a 1.56-inch screen.
Just like the new Moto 360, the older model is compatible with most Android handsets, and, if you're updating it to the latest version of Android Wear, it can even be paired with iPhones. So, who's willing to buy the 1-year old Moto 360?
source:
Google Play
via
Android Central