First design comparison shots and sample images from the Sony Xperia GX 13MP camera appear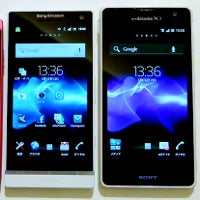 The highly-anticipated new flagship from Sony - the
Xperia GX
- has been lounging at NTT DoCoMo events for a week now that the carrier officially announced it last Wednesday, and an enthusiast took a few photos with its new
13MP Exmor R sensor
.
The pics, which are of the photographer's
Xperia arc
sitting next to the Xperia GX display, and of the room insides, are taken with a non-final unit, which still had some kinks to be ironed out, says the person who took the shots, so the final firmware results are probably going to look different - these were with firmware dating back to May 9.
Still, in these indoor conditions the camera performs pretty well, without excessive noise or softness, so we can't wait for the retail shots from the "stacked" RGBW sensor.
Best of all, the photographer said that these pics are taken with the international version of the Xperia GX, i.e., there was no DoCoMo logo in the front, which you can see in some of the pics we are posting in the slideshow below. We also get another confirmation that the phone swims opposite of the current trend, and
will come with removable battery and a microSD slot
.
The phone was also photographed in comparison with the Xperia arc, which is the inspiration for its slightly curved design. As you can see, despite the 4.6" Reality Display vs the 4.2" on the arc, the Xperia GX is not much larger, thanks in part to the use of entirely on-screen buttons, like on the Android 4.0 posterkid the
Samsung Galaxy Nexus
.
The last two slides show footage of the Xperia GX mirroring its screen to a Sony TV, and being controlled from the TV remote itself, direct consequence of
Sony's new One Sony and "Dot Switch" strategies
that ensure interconnectivity between all of its electronic devices.