First camera samples from the motorized robo-cam the Oppo N3 pop up
10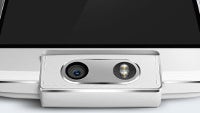 There's a lot about the
Oppo N3
to love – a more manageable (compared to its predecessor), 5.5-inch display, a quad-core Snapdragon 801 with four 2.5GHz cores, 2GB of RAM, a 3,000 mAh power supply, and an enviable, high-end construction. But the real highlight feature of the N3 is undeniably its 16-megapixel rear camera.
Now, you might think "16-megapixel camera? That's not that special?", but then you wouldn't be taking into account the fact that the N3 uses this same shooter for both a front and rear camera. This magic is achieved through a swivel-type camera – similar to the one that was present with the
Oppo N1
– but this time around Oppo partnered with Schneider Electric in order to deliver a cam that is motorized. Indeed, the N3's snapper can rotate the sensor on its own up to 206 degrees, allowing it to take panoramic shots without you having to spin the device and also rotate on its own depending on whether you want to shoot what's in front or behind it. And now, we have our first showcase of what this unorthodox config can do, thanks to a number of camera samples, courtesy of Chinese
MyDrivers
.
Overall, the results are great-looking, though we'll restrain ourselves from making judgments – we weren't at scene, after all. In any case, do make sure to check them out in the gallery below.