First camera samples from the HTC One M9
18
When HTC revealed an "
UltraPixel
" camera with the M8, many folks had some reservations about the decision. Needless to say, those concerns came to light once it was pitted against the handful of other flagships that soon came out – revealing its inability to capture the same level of detail as these other smartphones.
At the same time, too, HTC introduced the M8 as a Duo camera system, where a second camera lens captured depth information to add in that neat bokeh, or out-of-focus effect to its photos. For all of its unconventionalities, the HTC One M8 was a decent snapper – one that's sufficient for smaller 4" x 6" printouts, but nothing bigger than that. Considering that fine details weren't as pronounced with its shots, there was no flexibility in cropping photos without any loss in quality.
Enter the HTC One M9, the latest flagship smartphone announced by HTC. From the looks of it all, they listened to the complaints about its previous handset's UltraPixel rear camera, and they opted to tack on something more beefy sized. Specifically, it's armed with a 20-megapixel auto-focus rear camera, which features a BSI sensor, f/2.2 aperture, sapphire cover lens, and the ability to shoot 4K video. Of course, the 20-megapixel count is a dramatic departure from the 4-megapixel count of the M8's UltraPixel camera, but as we all know, it's not the higher number that necessarily produces the best results. Rather, it's a combination of things that do it – like post-processing effects.
Well, we managed to spend quite some intimate time handling a pre-production unit of the HTC One M9 and managed to capture a variety of shots for you to gaze over. Now, we have to stress the fact that these are samples from a pre-production unit –
not
a final retail model, so there's always that chance of things changing. So, what do you folks think about the camera?
Standard camera samples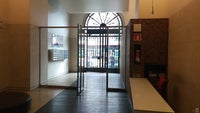 Bokeh mode shots