Is that 5G, Mi Mix 3, or you are just happy to see us?
2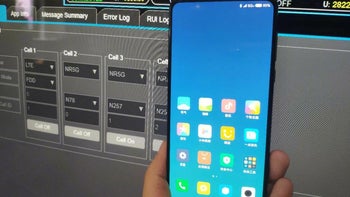 Well, well, well, what do we have here - Xiaomi teasing a 5G phone, that is. Last week, Xiaomi's Lin Bin teased a
truly "all-screen" Mi Mix 3
, with what seemed to be a pop-up camera section at the top.
Today, he posted a picture of someone holding said phone on camera, with a little "5G" sign in the status bar lit up. In addition, a bunch of 5G bands and frequencies are visible on a monitor behind the phone, indicating that it will possibly be a 5G device.
How come? Well, Qualcomm hasn't even announced its 5G
Snapdragon 855
chipset, or whatever it calls it, yet, and we all thought it will be
reserved
for handsets like the
Galaxy S10
. It has, however, outed the
X50 modem
that will usher in the 5G era on phones, and Samsung, as well as Huawei, are also said to be releasing their own 5G chippery.
As you can see behind the phone, a few of the new 5G bands are listed, such as the n257 that is supported by Verizon or T-Mobile, and possibly m260 on the right, which is the realm of AT&T as well.
Now, it's not clear whether the Xiaomi Mi Mix 3 is just being tested with Snapdragon 855, which should be already sampling with customers, or if it will ship with the 5G chipset out of the box, but this may be the first occurrence of the 5G notation on a phone that is soon to be retail. ZTE was boasting it will be the first, but already said that its 5G phone won't ship until 2019, so could the Mi Mix 3 be it? We'll keep our ears to the ground.