Fire sale: Amazon chops the unlocked Fire Phone to only $199, still includes a year of Prime subscription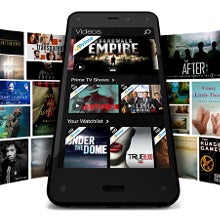 Fire sale for a
Fire Phone
, that's the only way we can call Amazon's latest effort to move some of the
epic unsold inventory
of its own smartphone edition. The electronic retail giant has slashed the price of its Fire Phone edition down to the cool $199.99, and we aren't talking contract prices here. Two Benjamins will get you the unlocked handset with 32 GB of storage at that, which is a pretty good deal, as the device is rather intriguing, flagging sales aside. Even better, the deal for the unlocked handset still includes the usual one year subscription for Amazon Prime, and this is a $99 value in itself, so you are basically getting the phone for a Benjamin, nice.
Besides a decent hardware, like a bright, 590-nits IPS-LCD display, peppy Snapdragon 800, 2 GB of RAM, 13 MP OIS camera, and a dual stereo speaker system, the handset brings with it a unique
3D-like Dynamic Perspective sensor system
for the interface, and the so-called Firefly service. This one can recognize over a 100 million objects - from songs, through dishwasher soaps, to phone numbers on a poster, and find them at the lowest price, or throw more info about them at you.