Apple iPhone 7 assembled front panel hints at new capacitive touch home button
30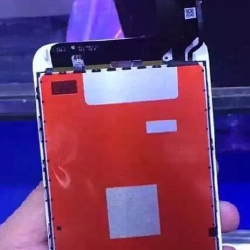 The other day, we showed you
images of what were allegedly front screen panels
for the
Apple iPhone 7
. The leak came with information about the resolution of the screen on both phones. The Apple iPhone 7 will reportedly launch with a 4.7-inch screen and carry a 1080 x 1920 resolution. The
Apple iPhone 7 Plus
, according to this leak, will feature a 5.5-inch display with a 1440 x 2560 resolution. That would be a bump from the current 750 x 1334 and 1080 x 1920 on the
Apple iPhone 6s
and
Apple iPhone 6s Plus
respectively.
Today, images of the fully assembled front panels for the iPhone 7 have leaked, and there are differences in the area where the electronics for the home button will be, It suggests that recent rumors that
Apple will replace the physical home button with a capacitive touch button
are true. Electromagnetics will allow the person tapping the button to feel a "clicking" feedback as though he/she had pressed the old home button. This might sound farfetched, but Apple has already applied this technology to the touchpad on the MacBook.
Images of the Apple iPhone 7 and Apple iPhone 7 Plus in Gold that we showed you today, included the home button, and it appeared to be the same physical button employed by Apple in the past. But as we noted, it isn't 100% clear that this is the case. Perhaps some video will be leaked in the next few weeks, before the expected September 7th unveiling, that will give us a more definitive look at the rumored new home button for the next-gen iPhone models.
source:
GeekBar