Final Windows Phone 8 walkthrough leaks out in a lengthy video
62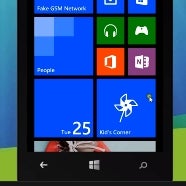 The
Nokia Lumia 920
and
820
, and even the later-announced
HTC WIndows Phone 8X
and
8S
, didn't let us see what WP8 will look like and behave beyond that new start screen with the
resizable tiles
. We are going to know the full story around
the end of October
, when Microsoft will officially launch the final version.
Well, the
near final SDK that was meant for select developers
has been floating around the Internets for a while now, and the leaked software was taken, installed on a 64-bit Windows 8 Pro RTM machine, as it is the only one that can take it, and the emulator fired up and recorded.
As a result, we have about 10 minutes of pesenting all the cool new functions that Windows Phone 8 will tag along, so you'd know better what to expect with the Lumia 920, HTC 8X and the rest of the WP8 starting gang. Enjoy the walkthrough below, and tell us what you think of the work Microsoft has done so far.