Windows Phone 8 release date to be October 29th, devices arriving early November
5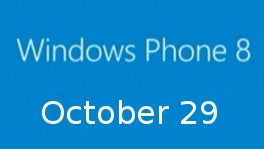 We knew that Windows 8, the operating system for desktops, notebooks and tablets is formally launching on October 26th, but so far we didn't know when Windows Phone 8, Microsoft's new phone platform, would arrive. Now, a leak of the full Windows and Windows Phone 8 launch timeline reveals that the
WP8 release date is set for October 29th
, just three days after the Windows 8 launch, according to ZDNet's sources.
That release date for Windows Phone 8 alone doesn't mean much, though, as it will take a week or two after this for the plethora of Windows Phone 8 devices to start hitting shelves. The first one was announced just hours ago - it's the
Samsung ATIV S
, a gorgeous 4.8-inch device with high-end brushed aluminum finish and a dual-core processor.
So here's how Microsoft plans to conduct the big launch:
October 25th, one day before general availability of Windows 8 devices and the operating system itself, Microsoft will host a huge event in New York City. The first Windows 8 devices and Windows RT tablets should become available at midnight, right after the event ends. That's if you can find a retailer that works at midnight.
October 29th will be the day when all new Windows Phone 8 devices arrive. Again, a big event is due, but this time on the West coast, probably in San Francisco or Los Angeles, according to ZDNet's sources.
Early November is when the new smartphones with WP8 will hit shelves

.
October 30 to November 2 will be when Microsoft holds its Build 2012 developer conference.
Microsoft got back at ZDNet with its usual "no comment" statement, but with all the specifics allegedly coming from sources in the know, we have no huge doubts that this is about right. So bottomline is - we're more than two months away from the first Windows Phone 8 devices.
source:
ZDNet
Recommended Stories