Fighting its loyalists: Samsung to push a Note 7 update in South Korea that severely limits battery charge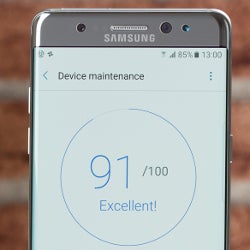 After Samsung figured out that whatever is wrong with the combusting
Note 7
is no easy fix, the company issued a full recall, announcing that the phablet will be discontinued and customers that bring their unit in
will be compensated
and get an exchange with another Sammy phone at a bargain. As you may guess, however, there are plenty of users out there who quickly fell in love with their Note 7 and have decided to
hold on to it
, trusting that there's a minimal chance that it might blow up.
Of course, Samsung is having none of that. The devices hold the potential to destroy property and inflict serious injuries, so the company wants those Note 7s back, away from customers' hands. To convince loyal, yet stubborn, users to return their Note 7, Sammy will now be pushing an update that limits the maximum battery charge of the smartphone to 60%. We heard that the update is coming to Europe, now Samsung confirmed that it will be installing it to phones in South Korea as well.
Does limiting the Note 7's charge to 60% make it safer? We wouldn't bet on it. Out of the numerous reports of blown up Notes, many of them were off, not fully charged, or not currently charging. The whole explosion issue has stumped Samsung for a while now and for good reason — the conditions under which it happens are varied almost to the point of being random, and a constant is hard to pinpoint. According to latest reports, Sammy engineers are now looking for a possible cause
outside of the battery compartment
.
What a 60% limit on charging would surely do, however, is incite users to go back to the store, probably with a grudgy look in their eye, and return their shiny phablet. Sorry, guys, but hey — we are pretty sure it hurts for Samsung as much as it does for you.