Feedly downed by second DDoS attack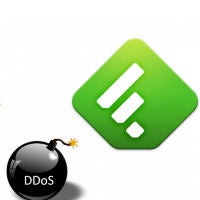 There is no shortage of options when it comes to finding an app with which to gather your daily news. Many more casual users simply use social media to aggregate news feeds, or an app like Flipboard or Pulse. But, there are still those who want a full RSS feed, and in the wake of Google Reader's retirement, Feedly has risen as the major player in the field of RSS readers.
Unfortunately, the past two days have been very rough on Feedly and all of the RSS reader apps that use the Feedly cloud, like Press, Newsify, Readiy, and many more. Yesterday, both Feedly and Evernote were hit with distributed denial of service (DDoS) attacks, which took down the sites. Those responsible were demanding ransom to stop the attacks, but neither service gave in. Evernote was able to restore service in a matter of hours, but Feedly was down for almost the entire day. Today, the problems started again as Feedly was hit with a second round of DDoS attacks, which have kept the service out of commission for all of the day so far.
Feedly has said that it is working with network providers, law enforcement, and other services that have been victims of the same attacks. If you're a die-hard RSS reader (like many of us are here at PA), we'd suggest exporting your OPML from Feedly whenever the service comes back, and making some backups with other services (and, we have some
recommendations
.)
*Update* Feedly is back up and running again.