Farewell, 8 MP iPhone camera: Apple's iPhone 6s and 6s Plus to have 12 MP cameras with 4K video recording, plus flash for selfies
99+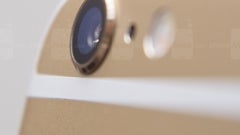 Starting with the iPhone 4s from 2011, all iPhone models had 8 MP rear cameras, this making them look a bit dated compared to many high-end smartphones of today, which offer 16 MP or 20 MP cameras. Of course, a camera is more than just Megapixels, and the latest iPhones undoubtedly offer good photo and video quality. Speaking of video, another thing that iPhones currently lack is 4K video recording. But all this is about to change come September, when, according to 9to5Mac, Apple will introduce its first 12 MP rear camera with 4K video recording, and both the
iPhone 6s
and
iPhone 6s Plus
should include it.
The iPhone 6s and 6s Plus will definitely not be among the world's first smartphones to offer 4K video recording, as there are already about 30 handsets that can shoot video in 4K (see
here
and
here
). Still, Apple will likely make a big thing out of the next iPhones' new capability.
9to5Mac also notes that the front-facing camera of the iPhone 6s and iPhone 6s Plus will be upgraded, too. It's not clear how many Megapixels this will have, but it's said that Apple will pair the camera with a flash. Not a traditional LED flash, though: the front-facing flash will actually
be the display
, which can quickly light up when users want to take photos with the front camera.
It's not the first time we're hearing about
a 12 MP camera with 4K video recording
for the next iPhones. But 9to5Mac is a reliable source when it comes to all things Apple, so we're now more inclined to believe that Apple is indeed ready to significantly upgrade its iPhones' cameras.
Apple will announce the iPhone 6s and iPhone 6s Plus next month,
on September 9
. A 4-inch plastic-made iPhone 6c might also be unveiled then.
source:
9to5Mac