Fake iPhone 3G fools eBay buyer
4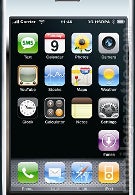 A man purchased what he thought was a real iPhone 3G over eBay, but began to wonder about its authenticity when he started to handle the device. So he turned it over to MacMedics, a consulting and repair firm with offices in Baltimore, Washington and Philadelphia. The conclusion was easy to make: the phone was a fake.
For those cellphone fanatics, this conclusion would have been easy to make. While the box looked real, the accessories inside the box gave the truth away. For example, this iPhone came with a protective case and even though it was printed with the device's logo, it is an extra that does not come with the real handset. A docking station with a speaker had the Apple trademark printed on the back, but resembles nothing that the company includes with the purchase of a real iPhone 3G. Inside the box was an extra battery/battery extender that clips to the bottom of the phone and puts the phony stamp all over this model. Add an AC power cord that is not current Apple equipment, a cheap pair of earphones and a stylus that would not work on a real iPhone capacitive display and many would not even have to inspect the phone to know that they had been taken.
Let's examine the phone. Giveaways include the plastic screen, a flat instead of rounded back, the Linux logo on a widget, and the lagging responsiveness just to name a few things that just do not seem right. Check out the video on the source link to see more.
source:
Baltimore Sun