Fake Alexa setup app fools Apple and iPhone users
47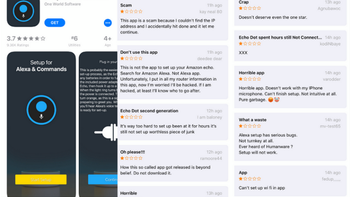 It appears that Apple has been tricked by a fake app called "Setup for Amazon Alexa," that is supposed to help users set up the Alexa virtual personal assistant on their smart speaker.
As stated by 9to5 Mac
, when the app is first opened, it asks for the user's IP address, the serial number of the smart speaker, and a name for the device. The App Store listing said that the app teaches users how to correctly setup their Alexa assistant and give it essential commands
With all of the new Alexa powered smart speakers that were opened during the holiday season, this app has hit #6 in the Utilities category, and is the 60th most installed app overall in the App Store. Those receiving an Echo device might have searched the App Store for "Setup Amazon Alexa," which not by coincidence is the name of the app. The app apparently tries to keep users engaged long enough to start serving ads, thus ringing the cash register.
The developer is a company called One World Software, which has two other apps available for iOS users. One is called "Marketplace – Buy/Sell," and the second is a 99 cents paid app titled "Any Font for Instagram." However, it appears that all three were removed by Apple earlier today. If you have any of these three apps on your iPhone, you might want to uninstall them immediately.
If you did get a new Alexa powered smart speaker for the holidays, you should install the
official iOS
or
Android Alexa app
to help you setup the virtual assistant.
Recommended Stories