Facebook takes on Google with Graph Search, a curated internal knowledge engine
13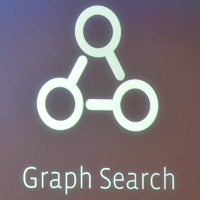 Mark Zuckerberg just took to a presentation where
Graph Search
was announced to a lot of excitement, at least amongst Facebookers. Dubbed "the third pillar" of Facebook, alongside the News Feed and Timeline features, Graph Search is the internal search engine of the social networking giant. Based on Microsoft's Bing tech, of course.
"
Graph Search is designed to show you the answer and not links to answers,
" seems to be the motto with which Facebook will differentiate itself from Google, though Mountain View has been doing a similar thing with G+ results.
The new "pillar" is a way to make sense and use more thoroughly the ragtag information Facebook users, and especially your friends generate all day every day - to make sense of all those photos, comments, likes and check-ins for the next time you need something specific.
It is basically a more
curated approach to search
, going through people you might trust most, or who share your point of view and interests, and you know the way they think and function, so next time you need to go to San Fran, you search who of your friends lives there, so you can crash on the couch.
We kid, but the idea is to ask things in a natural and more intuitive way, based on what is basically a bunch of filters for your friends' interests, whereabouts, workplaces and so on, from where you can derive useful information. Graph Search seems to be in an early stage of development, so for now you can look for things like people (with priority given to your top contacts), places, photos and videos (organized by themes such as weddings or best party shots, for instance, based on the comments), as well as people's interests, so you can quickly find those available for Pirates of the Carribean 5 moviegoing at this very moment.
The blue Facebook bar we are used to seem replaced with a search field, and natural language processing is used for the questions, so you don't have to focus much on the way you type it in. You can use it for just connecting, though, like asking for friends of friends who are single and happen to be in the city you'll be visiting, and you can further refine by education and so on. Sounds promising, but we'll see how it does in practice, you can check it out right now at
facebook.com/graphsearch
.
Oh, and on the question will there be an API for 3rd party apps to integrate in their services, the CEO answered: ""
We want to work with any company as long as they'll honor the privacy of the folks on Facebook
." Crickets.