Facebook is testing a persistent notification status bar on Android
21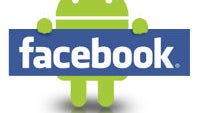 Facebook is always trying to find ways to keep its product as close to users as possible. The most successful of these attempts has been Chat Heads on Android, which leaves a hovering friend icon on your screen when messaging. The least successful has been Facebook Home, which was a very invasive full launcher replacement. Now, Facebook is looking at the notification bar on Android as its next target.
Facebook has apparently been testing a new feature which would place a persistent status bar in your notification tray. There are plenty of apps that can do this already, including various to-do list apps, weather apps, etc. Facebook's idea would be to place the most important buttons in a bar in your notification tray. This would include a link to your news feed, friend requests, messages, and the global Facebook notifications button. Obviously, there is also an option to turn this feature off.
Right now, Facebook is only testing this feature with "a small group of people", but as with anything else, if it tests well, we may see it folded into the main Facebook app eventually. It's not really a terrible idea. It's out of the way, but still easily accessible, and could certainly be a nice option for those who get a lot of Facebook notifications, rather than having those notifications fill up your notification tray.