Facebook forcing employees to use Android to improve app
25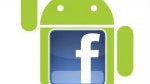 It sounds like Facebook is finally going to put some real effort into its Android app, as word has come out that the company is now forcing its employees to use Android devices in order to make the app better. Facebook's Android app has routinely gotten flak for being sub-par, and according to Business Insider, the company is intent on changing that.
Apparently, Facebook employees are dogfooding the Android app in order to find ways to improve it. Given that the last
update to the iOS Facebook
app made it a
native iOS experience
rather than piping in the HTML5 from the website, so maybe we're going to see a native Android experience as well. If so, that would make the app much faster and smoother.
The HTML5 has been an okay way to offer the app, but it has led to inconsistencies, like the fact that users can't access their friends' photo albums unless that friend has switched to Timeline. The mobile experience on Android isn't so bad if your friends have switched to Timeline, but it would certainly be nice to see Facebook go native on Android as well.
Recommended Stories