Facebook Home will eventually have ads in the Cover Feed
20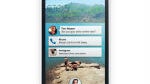 It has been no secret that Facebook is looking for more ways to monetize mobile. Mark Zuckerberg said as much on the topic, so it shouldn't come as much of a surprise that Zuck has also admitted that while Facebook Home will not contain ads at first, it will eventually show advertising in the Cover Feed.
If you watched the
announcement event
, you'll have heard for yourself that Mark Zuckerberg said about Facebook Home that "there are no ads in this yet. I'm sure at some point there will be." He also implied that Cover Feed, the central hub of Facebook Home would be an area where we should expect to see ads.
Even Google, the king of advertising hasn't gone as far as to put ads on the homescreen of devices. Amazon has done it with its Kindle and Kindle Fire devices though. Of course, Zuck now has public shareholders that he has to worry about, so monetization is more important than ever. Still, with the user info generated from Facebook Home, it should make for some valuable targeted marketing.