Facebook Home updated with folders, but no new devices, so who cares?
6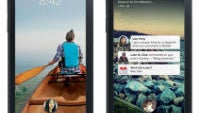 Facebook has made it very clear that it is
listening to the feedback
that its users are giving in regards to Facebook Home, and the company is working hard to implement the changes that those users would like to see, like the option to add folders to the app list. Unfortunately, Facebook is focusing so much on user comments, that it has fallen down on
promises that it made
when Home first launched.
The app has been updated to support folder creation in the app list, and it works as you would expect. Just drop one app on top of another and a folder will automatically be created. Unfortunately, that is the only update that the app is getting. When Home was first released back in April, it said that device support would be expanded, and would include flagships on the horizon like the Samsung Galaxy S4 and HTC One. But, that still hasn't happened, and the app still only officially supports the Samsung Galaxy S III, Samsung Galaxy Note II, HTC One X and HTC One X+.
It is
possible to get the app
on the Galaxy S4 and HTC One, but it isn't official, and doesn't yet include the new features available in Home. We did find
Facebook Home to be fairly sticky
while playing with the hacked version on a Nexus 4, but gave up on it while waiting for an official update with support, but it looks like that is not a priority for Facebook.
If you want to give Facebook Home a shot, and you have a compatible device, you can get the app for free in the
Google Play Store
.