FCC will investigate cellphone unlock legality
19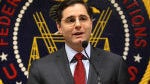 So, we're not quite sure if this exactly fulfills the requisite White House response to the
petition that successfully
went through the We The People site about unlocking cellphones, but it is some sort of action by a government entity. FCC Chairman Julius Genachowski said today that the FCC will investigate the legality of unlocking carrier-locked cellphones.
The backstory is that unlocking a cellphone that has been carrier-locked is currently illegal in the US, even if you've finished your subsidy, or purchased the phone off-contract. The Library of Congress had exempted cell phone unlocks from the Digital Millennium Copyright Act, which bans "circumvention" of copy protection schemes, and so unlocking had been legal for the past six years. That exemption was allowed to lapse, but the ban on jailbreaking your device has been lifted. So, it is currently legal to do what you will with the software of a device that you own, but not the hardware.
FCC Chairman Julius Genachowski told TechCrunch last night that the FCC would look into the cellphone unlocking issue. He said that the "ban raises competition concerns; it raises innovation concerns," but
he did warn that the FCC might not actually have the power to do anything about changing the law
.
That's why we're not sure if this fulfills the required White House response, because we're pretty sure that the petition requires a response from a branch of government that can actually do something about the problem. So, it seems that it is still important for you all to contact your local
congressmen
and
senators
, and because they definitely have the power to change the law.