FCC meeting with SoftBank's Son; T-Mobile merger plans are on the table
13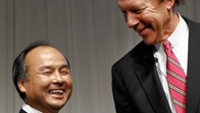 SoftBank Chairman Masayoshi Son is planning on meeting with the FCC on Monday, to discuss various matters including SoftBank's desire to buy T-Mobile.
A recent discussion with the DOJ didn't go terribly well
with that agency giving a cold reception to the idea. The meeting today was the focus of a report in Monday's
Wall Street Journal
. And while the meeting will discuss a variety of topics, the main discussion will be about Son's plan on merging SoftBank owned Sprint and T-Mobile.
Son is expected to tell the U.S. agency that the large acquisition is required so that someone can challenge the top U.S. carriers. Currently, Verizon and AT&T are numbers one and two and have a fairly wide lead on Sprint and T-Mobile when it comes to the number of subscribers they have. T-Mobile has been making the most noise lately, adding over 4 million subscribers in 2013 on the back of new innovations led by it's feisty CEO John Legere. There are some who believe that U.S. regulators will reject a deal for T-Mobile just to see how far the nation's fourth largest carrier can get on its own with the combination of its UNcarrier innovations under Legere's leadership.
Also attending the FCC meeting will be Sprint CEO Dan Hesse.
SoftBank purchased 78% of Sprint last year
after a fairly heated battle with Dish Network. Dish also has been rumored as a potential suitor for T-Mobile, although there might not be a room large enough to contain the personalities of Dish Chairman Charles Ergen and T-Mobile's Legere. Ergen wants Dish to become a mobile operator which puts the satellite content provider in the thick of every deal as a wild card player.
While
banks have already offered financing to Sprint and SoftBank
to get the deal done, one hang up is on the break-up fees. Son has reportedly told investment bankers working on the deal that Sprint cannot afford to make a huge payment to T-Mobile in case the deal is announced, but is never closed.
AT&T paid T-Mobile $3 billion and handed over some strategic spectrum
after AT&T pulled out of its $39 billion deal to buy its smaller rival back in 2012.
In that deal, AT&T faced unwavering opposition from the FTC which ended up forcing the carrier's hand. So far though, the initial chilly response from the FTC to a possible acquisition of T-Mobile by Sprint has not stopped Son from moving forward with his plan.
source:
WSJ