FCC gets visit from LTE enabled T-Mobile Samsung Galaxy S III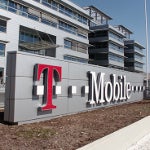 T-Mobile appears ready to launch its LTE pipeline
in Las Vegas and Kansas City. Once the nation's fourth largest carrier starts blanketing the country with its LTE signal, it is expected that it will send out a software update to
turn on the LTE support buried inside
the
Samsung GALAXY Note II
and the
Nokia Lumia 810
. Additionally, T-Mobile is expected to add an LTE flavored version of the
Samsung Galaxy S III
to its lineup. Currently, the three devices use the mobile operator's HSPA+ network for 4G coverage.
sign off
on the device. The SGH-T999L, as the phone is known to its best pals, will still have that HSPA+ connectivity just in case you live in a spot that has not yet been covered by T-Mobile LTE. With the LTE support on bands 4 and 17, it's party time for AT&T customers using this device, as well.
The only possible downside here is that the
Samsung Galaxy S IV
is getting closer and closer and with
possible new features like the rumored "eye scroll,"
which tracks your eyes to scroll content on the screen, who is going to want a phone without the latest and greatest capabilities?
source:
FCC
via
TmoNews