FCC and the European Commission to open TV spectrum for wireless broadband usage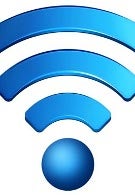 The Federal Communications Commission will be announcing on September 23rd its plan for giving out unlicensed spectrum for beaming wireless. The spectrum is left from transferring the analog TV signals to digital, since digital is much more compact.
This white-noise bands left are in a pretty sweet low frequency range, usually reserved for TV - meaning that the signal will have better admission rates through walls, and can travel to more remote areas. It is hard to imagine right now all the numerous applications for the newly released spectrum, but some of them include better Wi-Fi coverage in remote rural areas, smart grids, and blanketing wireless Internet.
A few opponents of the idea that the FCC gives these bands to everybody for free, are industries who are afraid the new devices will interfere with their existing programming. That is especially true in big cities, where TV stations are a dime a dozen. Owners of concert theaters and sports arenas are also afraid that the project will bring interference to their wireless microphone systems. These issues are expected to be addressed when the new usage rules are released September 23rd. We cross fingers for this so-called "Wi-Fi on steroids" to take off as quickly as possible. Microsoft is already testing the white-space signals on its Redmond, WA campus.
A similar undertaking is going on in Europe. The EU is taking the 800MHz band off the TV broadcasting range, and will be giving it for the creation of Pan-European wireless broadband netowrk. This will allow broadband to cross national boundaries, and will let manufacturers achieve economies of scale, producing devices for one and the same frequency throughout Europe.
source:
NYTimes