FAQ for Google Glass might answer your questions about the device
5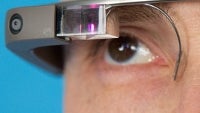 Have a question about Google Glass? You might ask your next door neighbor's Amish neighbor who has a Wang Word Processor for the answer. Or there is always your barber. After all, he was the first one to tell you that not every Android model is a DROID. If those two don't know about Google Glass, you can always trust the pizza delivery boy who pulled out his
HTC DROID ERIS
and was so excited about only spending $150 for it on Craig's List for it last week. "
It runs Android 2.1 and everything
," you remember him gushing. Hopefully, you know better than asking anyone that sounds remotely like those three examples for information on Google Glass. Instead, you can go straight to the
new FAQ page
that Google has put up.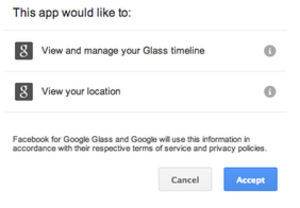 Google Glass asks permission to download the Facebook for Glass app
The information is broken down into four categories including general questions about Google Glass, questions about the specs' specs, security and privacy concerns and questions about Google Glass' software. Questions range from the most basic ("What does Glass do?") to more timely concerns ("What information is shared with third-party application developers?"). Google even gives an explanation on why Google Glass actually lowers a person's reliance on technology
.


If you have some questions about Google Glass, you can now visit the official FAQ for the device, with a simple click on the sourcelink.
source:
GoogleGlassFAQ
via
Engadget