Exploding Kittens finally brings its fun to Android
3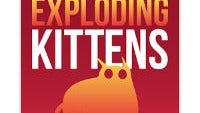 Exploding Kittens is a fantastic card game, let's just get that fact out of the way first. The art from The Oatmeal's Matthew Inman is distinct and fun and the writing of the card descriptions are hilarious. It's just a great game all around (and the NSFW version is even better, in a cringe-worthy way.) Now, that experience is finally available on Android.
The game was originally released as a card game last fall (full disclosure: I was an early investor in the Kickstarter) and made it to
iOS in January
. The card game is all about playing with friends in person, but obviously the mobile game works better if your friends are more spread out (or maybe you just want to play with strangers).
The aim of the game is simple: there are exploding kittens and there are a limited number of defuse cards, so it becomes a strategy game about making sure you're the last person standing after everyone else is blown up. There are various cards to let you screw over other people or protect yourself. It's fun, but there's a fair chance you may get pretty annoyed if one person wins multiple games in a row.
Exploding Kittens is available for $1.99 and there's also a party pack expansion that you can buy for a $1.99 in-app fee.