Europe to get Nokia Lumia 920 and 820 in November? Price leaked?
54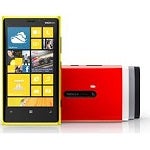 One of the frustrating things about new product announcements is that often critical information is omitted for one reason or another. Nokia's reluctance to say when its newest line up of Lumia handsets would go on sale or offer a price point is being cited as one of the reasons why their stock took a beating after the announcement. It is understandable to some extent, product announcements are often made while final testing and configuration is still being performed.
European telecom operators tell Reuters that the Lumia 920 and 820 will go on sale in November. However, other sources indicate a mid-October release for the Lumia 920 with the 820 to follow shortly thereafter. The price of the Nokia Lumia 920 is expected to be €600 ($758 or £476). The Lumia 820 will debut with a price of about €450 ($568 or £357). This pricing puts the devices in the same realm as their competitors, such as the Samsung Galaxy S III, which sells for about €580.
If Nokia is able to keep that schedule, their new offerings will be well in place for the holiday shopping season. Such timing does not help Nokia's position given the elephant in the room – sales of Apple's new iPhone will likely be well underway by then. Samsung's sales are strong as well,
and they have a new Windows Phone 8 device
coming to market. Further hurting Nokia from a financial standpoint is that demand for the Lumia 900 will probably grind to a halt now that people will want to wait for the new devices. A November release would mean a two month dead-zone of sales crossing two fiscal quarters.
It is not all doom and gloom for Nokia though. The Lumia series have attractive designs, and the
camera on the Lumia 920 looks like it is top notch
. Add in some of the unique features that Nokia brings to their device line-up as well as a Nokia-centric program which
helps a user make the switch to Windows Phone
, and the new Lumias are definitely solid contenders. Nevertheless, it is pretty clear that the Lumia 920 and 820 are facing very strong competition in a ever more crowded market. Are the new Lumias going to be winners? We think so.
sources:
Reuters
,
Futurezone.at
and
Winfuture.de
via
WMPoweruser