Samsung Ativ S is official, becomes the first Windows Phone 8 handset
69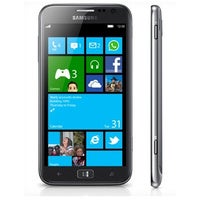 Well, that didn't take long. Only minutes after press images of it leaked on the web, the Samsung Ativ S was publicly unveiled during the Unpacked event that the company is hosting tonight in Berlin. What we have on our hands is the first officially announced smartphone powered by Windows Phone 8. And boy, isn't it a doozy!
The Samsung Ativ S is powered by a 1.5GHz dual-core processor, and delivering all the eye-candy is its huge, 4.8-inch HD Super AMOLED display. On its back you will find an 8-megapixel camera with auto-focus and LED flash, while a 1.9-megapixel front-facing shooter makes video chats over Skype or other VoIP clients possible. Furthermore, there is a microSD card slot for expanding the smartphone's 16 or 32GB on-board storage, and NFC for things like content sharing or mobile payments. Getting online is possible via the smartphone's 42Mbps HSPA+ radio. The 2,300mAh battery should pack enough juice to get you through the day.
And that is what the first Windows Phone 8 smartphone is, folks! What do you think about it? Could Nokia possibly deliver something better next month? Let us know what you think in the comments below.
source: Samsung