Eric Schmidt says Android is "more secure than the iPhone"
34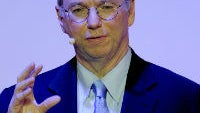 Security is a very complicated issue, especially when it comes to platforms that are still changing as fast as they are in the mobile space. The general consensus is that Android is the least secure of the mobile options, although the reasoning there doesn't always hold very well. Google has been on a bit of a mission recently to regain control of the security narrative, and today Google's Eric Schmidt even went so far as to say that Android is "more secure than the iPhone".
This comment came soon after Google's recent claim that
less than .001% of malware
evades Google's multi-layer security to actually cause real harm to Android users. Schmidt was responding to a question from Gartner analyst David Willis where he was asked to react to people saying that Android isn't secure. Schmidt quickly responded with "Not secure? It's more secure than the iPhone."
Unfortunately, Schmidt didn't really explain his answer at all. He did mention Android's one billion activations (which doesn't include non-Google Androids where the majority of malware resides), and Android's security testing. The argument is a complicated one for a couple of reasons. First, there is a general misunderstanding about open source software, which people claim is less secure, but is actually more secure. However, because of Android's policy to allow users to sideload apps, and the huge number of Android devices that rely on sideloading because they don't include Google Play Services, there is an issue with malware.
So, if we're talking about Android devices with Google Play Services, the argument could definitely be made that it is as secure as iOS in that the biggest threats come from users who bypass all security. Of course, Google may need to come up with a better way to convey that idea, because there are a lot of users around the world that use non-Google Android, and don't have the same security options in app stores.
Schmidt didn't mention issues arising from a lack of device upgrades from manufacturers, which could pose security risks, but he did also argue against the idea of fragmentation, because as he said, "With Android we have an agreement for vendors that you keep the Android stores compatible and that is a great breakthrough for Android," because the apps work everywhere. This is a big key for Android as compared to Linux in general, where apps don't always work across distributions. Although, as we've argued before, and as you can see with this right here, "
fragmentation
" is an annoying term because it encompases so many different problems with different causes and remedies.