Energy Bar is an animated, color-coded battery charge indicator for Android
4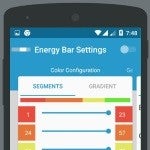 For Android users, Energy Bar is a classic method of illustrating battery life with a colorful animated band up in the status strip. Plugging in your charger fires up a pulsating animation, indicating the current charge level and how much the battery has charged since the device was plugged in.
The app has seen a hefty round of updates over the course of its development, which culminated in version 5. A complete re-write, a brand new UI, three different color pickers, and most notably, the app integrates into Android as an accessibility service as a means to prevent random force closes.
The thickness of the bar can be adjusted, from hair-thin to a phat value of 20. Moreover, the bar can be aligned left, center, or right of the screen. The bar can be wholly color-coded by the user, for example by splitting it into segments of four and having a different color for each 25% of battery capacity.
Energy Bar is optimized to put zero load on the CPU, and goes on deep sleep when you turn off the screen, which means it won't track battery changes when the screen is off.
If you want to give it a try, Energy Bar is available for free in Google Play. An in-app purchase unlocks an extra layer of functionality, including gradient energy bar and setting the status bar as your energy bar.