Eight Apple executives enjoy a big pay day as restricted stock units vest
78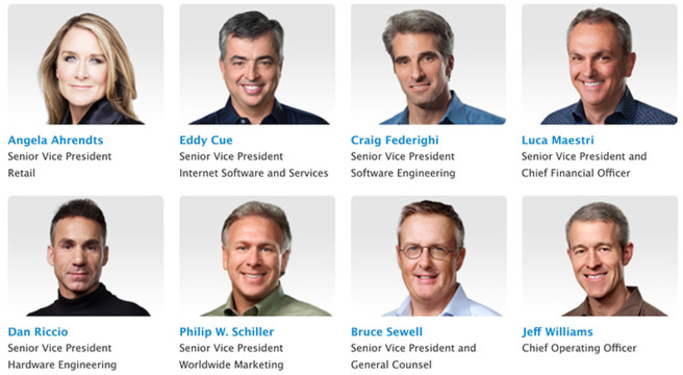 Why are these eight Apple executives smiling? Read the story below!
Eight Apple executives hit the jackpot last week when their restricted stock awards vested on April 1st. According to a required filing with the Securities & Exchange Commission, the shares were part of Restrictive Stock Units awarded to the executives on March 3, 2014, and Oct. 17, 2014. On those two dates, Apple gave out awards that each were comprised of 53,056 and 40,955 RSUs respectively.
Six of the executives received both grants, which added up to 94,010 shares of Apple common stock. How much is that worth? As of this moment, the awards are worth more than $13.6 million each to the six that received the March and October grants. Those executives are Apple Chief Operating Officer Jeff Williams, Senor Vice President and General Counsel Bruce Sewell, Marketing head Phil Schiller, Senor Vice President VP of Internet Software and Services Eddy Cue, Senor Vice President of Software Engineering Craig Federighi and Senor Vice President of Hardware Engineering Dan Riccio.
The remaining two executives, Apple Senior Vice President of Retail Angela Ahrendts, and Chief Financial Officer Luca Maestri, each saw their award of 40,955 RSUs vest. The shares in their packages each have a current value of $5.93 million.
Apple did hold back 46,214 shares from the awards received by Cue, Schiller, Federighi, Riccio, Williams and Sewell for tax purposes. The company withheld 19,632 shares from Ahrendts and Maestri to cover taxes.
The only reported stock sale from the vested shares was made by Schiller, who disposed of 47,796 shares that he parked in a family trust. The value of that transaction was $6.9 million.
source:
AppleInsider