Eat my dust, Samsung: Qualcomm reveals a breathtaking 1Gbps X16 LTE radio modem
48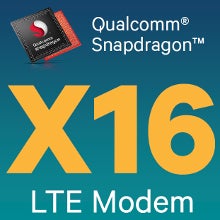 Just when Samsung was getting neck-and-neck with Qualcomm in terms of
LTE modem abilities in its Exynos system-on-a-chip
solutions, the Texans took to the airwaves to announce their next big thing. Qualcomm's new X16 LTE modem is capable of sustaining data speeds of up to the whopping 1 Gbps.
Such LTE Advanced Pro speeds are present in only a handful of countries for now, like South Korea (oh, the irony!), Australia or Sweden, but when carriers here are ready with such rollout, Qualcomm will have the modem to match. Verizon has a pilot 1Gbps network a its HQ already, and, needless to say, says that such fiber-like speeds are meant for the next generation of video streaming.
For now, suffice it to say that the modem supports Cat. 16 LTE speeds, while
others are up to Cat. 10
, and is built on the trendy 14nm process, meaning a much smaller footprint and power consumption than before, despite doubling the speed over previous generations. The other interesting tidbit about Qualcomm's X16 LTE radio is that it is created with a new modular architecture that will allow quick scaling and adaptation to various tasks, scenarios and IoT gadgets that will need LTE connectivity.
The first units are shipping to customers for sampling as we speak, and will be available in retail devices in the second half of the year. Given that Apple always try to keep the iPhone at the forefront of LTE connectivity - the
iPhone 6s supports a record number of bands
- we wouldn't be surprised if Qualcomm's new fast and efficient modem makes it into the
iPhone 7
and
Apple A10
. As for Qualcomm's own chipsets? We doubt this modem will see the light of day before
Snapdragon 830
goes into devices next year.