Snapdragon 830 may support 8 GB of RAM, claims analyst, to be coded as MSM8998
35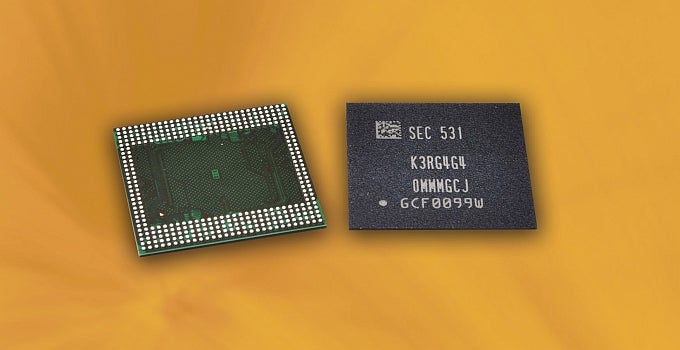 Samsung's 12 Gb stacks may grow to 16 Gb next year, letting phone makers pair the future Snapdragon 830 processor with up to 8 GB of RAM
The ink has barely dried off the
Snapdragon 820 press release
, but some Snapdragon 830 tidbits are already trickling down the rumor pipe. The first thing we heard about Qualcomm's next great thing, is that it will likely be
built on Samsung's next-generation 10nm production process
, which is not really hard to fathom, given that the Snapdragon 830 announcement in a year or so will likely coincide with
Samsung beginning the mass production of 10nm chips
.
Apart from the die shrink from 14nm to 10nm, which will bring with it the inevitable increase in performance and decrease in power draw in the same physical footprint, one industry analyst now claims that Snapdragon 830 may support mobile devices with up to 8 GB of RAM. Given that the Snapdragon 820 specifications clearly state "
LPDDR4 1866MHz Dual Channel memory
" support, it's not hard to fathom that its successor can deliver the same dual-channel config, but supporting up to 8 GB this time, provided that there are such chips on the market then.
Samsung announced just this September
that it has pioneered mass production of 12 Gb (equal to 1.5 GB) LPDDR4 RAM chips, using a 20nm process, and noted in the press release that this would pave the way for smartphones with 6 GB of RAM. Given that there are 8 bits in a byte, a 12 Gb chip holds 1.5 GB of memory, so by stacking four of those 12 Gb chips, future flagships will be able to arrive with 6 GB of DDR4 RAM, if the manufacturer so desires. By this time next year, Samsung might very well announce 16 Gb (2 GB) stacks with an even newer production process, just in time for Snapdragon 830 and its eventual 8 GB RAM support in early 2017 or so.
It is a totally separate question if we need that much RAM in our phones, but it might be theoretically useful for more specialized tablets, or even future laptops with ARM chipsets. The analyst that tipped the 8 GB RAM support in the upcoming Snapdragon 830, also claims that Qualcomm will code the processor as "8998", which is, again, not hard to predict, given that Snapdragon 820 is MSM8996, while the current Snapdragon 810 is denoted internally as MSM8994. In any case, there is plenty of time between now, and the eventual 830 unveiling, so there should be much more info about Qualcomm's next alleged juggernaut in the coming months.