Earn a reward for just walking into a Best Buy store starting today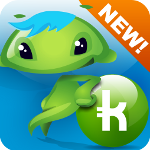 Suppose you could get rewarded for just walking into a store. That is the case with the shopkick mobile app which is available for the Apple iPhone and Android handsets. For example, starting today you can walk into any of the 1300 Best Buy locations and receive a reward for just entering the store. Instead of being tracked with your phone's GPS signal, a special shopkick signal is sent out inside the store which only your phone can hear. Once it verifies that you are indeed at the store, you are given rewards. Other rewards are given when you scan an item, check-in or make a purchase. The rewards include gift cards, free movie tickers, charitable donations and more, including a currency called "kicks" that can be used to make purchases.
While Best Buy originally tested the service at 257 locations, they obviously have been pleased with the results considering the nationwide rollout today. Other stores involved include Target, Macy's, American Eagle, Sports Authority, Crate & Barrel and other retailers. Shopkick is in use at locations in New York City, LA, SF, Dallas, Chicago, BOS, ATL, Houston, D.C., Miami, Seattle and St. Louis. None other than The Wall Street Journal calls it the #1 shopping app. The download is free for both platforms although the Android version requires a phone running Android
2.1
or higher.
source:
AndroidMarket
,
iTunes
via
IntoMobile