Ear Jack Mobile Phone Speaker fits in your phone's earphone jack, delivers improved audio
8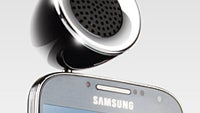 Imagine being able to enhance the quality of sound coming from your phone by reaching into your pocket, pulling out a speaker and plugging the speaker into your phone's earphone jack. This is possible if you own the
Ear Jack Mobile Phone Speaker
sold by gadgets firm Brando. The speaker is attached to a 3.5mm plug that fits the earphone jack on most handsets.
Measured at 35mm x 33mm, the speaker also carries a USB cable so that the speaker can be recharged and always at the ready. A small on/off switch is on the back along with an indicator light. The speaker works on any device that carries a 3.5mm opening and is priced low enough to be an option for anyone wanting to enhance the sound on a mobile device. You can order it directly from Brando for $18 and with an extra $3, it can be shipped to Europe. The device is available in black, white or red.
We've seen a number of accessories that plug into the 3.5mm jack on your smartphone and don't do anything but show off a particular television or movie character. With the Ear Jack Mobile Phone Speaker, you're actually using the jack to improve the function of your handset. If you're interested, click on the sourcelink.
source:
Brando
via
Pocketlint