Each Galaxy S5 costs Samsung just $256 to make, just a tad higher than a Galaxy S4
53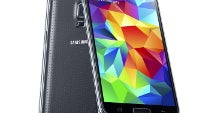 Are you interested to know how much it costs Samsung to produce each Galaxy S5, exactly? Well, the magical number you are looking for is no more or less than $256 – this is the cost of the components in the device. As a comparison, each Galaxy S4 purportedly
cost Samsung between $236 and $244.50
. This was revealed by a recent teardown of the recently-launched device, conducted by IHS, a market research agency. It appears that most of the components in the flagship are mostly recycled ones and
"there's really nothing special inside".

According to IHS, the display of the device, which is among the best AMOLED displays we've seen in a while, is among the most expensive components of the phone – it is estimated that each one costs Samsung $63 to build. The South Korean company also uses its own DRAM and flash memory chips, which come with a combined cost of $33. Nonetheless, it is unclear what is the material cost of the Qualcomm Snapdragon 801 SoC found in the Galaxy S5.
IHS: "There's no breakthroughs, there's nothing earth-shattering. It's really just a continuation of what has come before."
What's more interesting, however, is the estimated build cost of the fingerprint sensor that is embedded into the home button of the smartphone – the hit-or-miss component, produced by unnamed manufacturer, purportedly costs just $4. As a side comparison, the far more accurate fingerprint sensor that Apple used for the iPhone 5s costs around $15.
Moreover, the build cost of the heart rate sensor at the back of the Samsung Galaxy S5 is just $1.45. The sensor is produced by Maxim, a manufacturer that also provides various power management chips for the flagship. Up until now, Samsung used Qualcomm power management chips in most of its devices.
However, we should take into consideration that the overall component cost of the device does not include the hidden expenses that concern the software, the research, the marketing, and other additional factors that form the retail price of the Galaxy S5.
If you are curious to see what's inside Samsung's finest, you should check out
iFixit's teardown of the device
that we reported several days ago. The device comes with a mediocre repairability score of 5 out of 10 points.
source:
Re/code
via
SamMobile