EXCLUSIVE! First official Storm2 hands-on!
20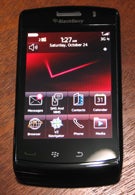 A few weeks ago we brought you a
preview of the upcoming Storm2 9550
, and quite frankly came away unimpressed. We made extra effort to stress that our unit was pre-production however and that we expected many things to be fixed, most notably the "buttons" at the bottom of the screen. Well now we have a retail unit, and indeed most of the issues we encountered have been addressed. The software is smoother, the buttons work and the device just feels better all-around. It's still quite heavy, but the screen feels more solid and typing is a much more plesant experience then the first time around.
Stay tuned for a full review soon!
RIM BlackBerry Storm2 9550 Specifications