During the second quarter of 2017, the Apple iPhone had the largest installed base in China
28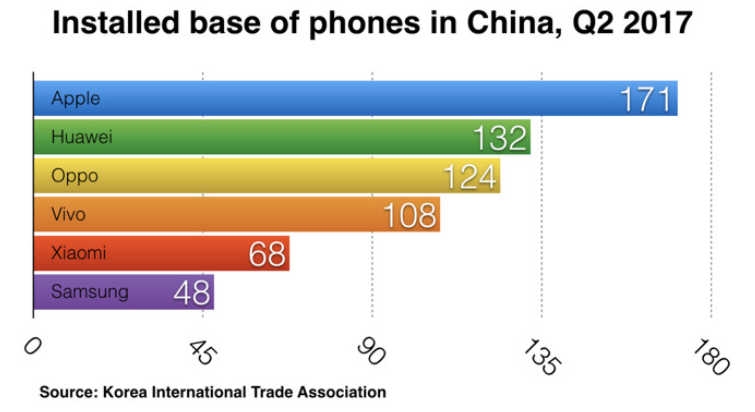 During the second quarter, the iPhone had the largest installed base in China
Even though Apple has lost momentum in China, the iPhone still has the largest installed base of any smartphone in the country. According to the Korea International Trade Association, 171 million iPhone handsets were in use in China during the second quarter of this year. That was followed by the 132 million Huawei branded smartphones owned by Chinese consumers during the same time period. Oppo was third with an installed base of 124 million units. With 108 million units in use, Vivo finished fourth. Rounding out the top six were Xiaomi and Samsung with Q2 installed bases in China of 68 million and 48 million units, respectively.
The second through fifth place manufacturers with the top second quarter installed bases in China, all come from that country and have become popular with the younger smartphone buyers. For example, 50% of Oppo phones are being purchased in China by those in the 16 to 25 age range. Yet, only 25% of Oppo and Vivo buyers said that they would repurchase the same brand. This is where Apple shines, as 53.4% of Chinese iPhone owners said that they would choose to buy another iPhone. Only 7.2% of Samsung buyers in China would buy the brand again.
The report points out that since the launch of the
Apple iPhone 6
, Samsung has never recovered from pressure on the company's Galaxy S and Galaxy Note lines. Both have never recovered from the sales and growth that Samsung achieved in 2014. That has led Sammy to focus on Apple as a customer for its chips, displays and memory units, instead of as a rival for its smartphones. Even though Samsung tops Apple and sells more smartphones than any other manufacturer, the South Korean tech firm earns less than 20% of the profit that Apple rings up from sales of the iPhone.
via
YonhapNewsAgency