DuoLingo review: language learning as a game
11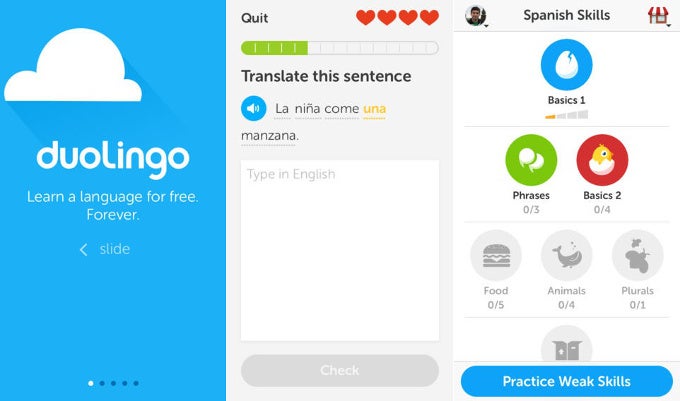 | | |
| --- | --- |
| Developer: DuoLingo | Download: Android | iOS |
| Category: Language learning | Price: Free (with in-app purchases) |
If you are looking for a way to learn a language with the help of your smartphone, and without paying exorbitant amounts of money, DuoLingo is probably the best app for you at the moment. DuoLingo is available on both Android and iOS, and while it started with official support for just Spanish and German, it's quickly added new languages, and now - with its help - you can also study French, Portuguese, and Italian.
A Carnegie Mellon University project, DuoLingo uses crowd-sourced translations to build its whole language-learning system that will walk you from the beginner stages of language acquisition to intermediate knowledge. Crowd-sourcing translation basically means that it is using translations from random people on the web, which does not sound very promising, but that skepticism immediately goes away after you use the app for a while.
We'll start this review with my personal journey with the app, which started with German. Having signed up in a German language course (beginners level), I was disappointed with the slow pace of the group and wanted to fill in times between exercises with something meaningful, and that's how I stumbled upon DuoLingo. I had already learned the very basics like the alphabet and some rules of pronunciation, and I was lucky to since DuoLingo does not walk you through those very basics - it does require some minimum background.
From there on, DuoLingo is extemely easy to grasp, as it is built like a game - you progress through levels, and everyday you get XP points for that progress. In every level, you start off with a few 'hearts' that you have to keep until the very end. Answer questions correctly and you keep them, make a mistake - and you lose one of your hearts. Losing all your hearts fails the level, so you have to stay focused. Good news is that the system that detects your answers is fairly flexible, and will accept different answers. However, only one answer is considered the best, and - if you get it right - the app will reward you with a maximum score, while an otherwise correct answer would yield you a lower score. Quite nicely, the system would detect when you have made a typo in your answer, and won't penalize you for that as much as it would for a completely wrong answer. DuoLingo is so designed that - if you have friends using the app - the whole learning process becomes a competition that will drive you to learn faster, which is great.
As to the language journey itself - it starts with a big roadmap that is unique for every language. We counted 71 levels for German, each of them with a few sub-levels (each sub-level coming with around a dozen exercise drills) that you have to complete. This is to say that the whole learning process takes days - not hours - to complete, and that's a good thing.
The exercises themselves vary in form and difficulty - they are not too complex, but vary enough to keep you focused. You have translation drills that go both ways, language structure exercises, grammatical questions, word drills, listening exercises, and so on. DuoLingo even requires you to speak, so it basically covers all four key aspects of learning a language - speaking, listening, reading and writing. New words, on their part, are introduced with proper pronunciation and a picture, and they are immediately incorporated in your exercise routine. The system is very smart in that aspect, delivering something for those with more visually-oriented memory, as well as others, who remember best by listening or writing.
Another key aspect of DuoLingo is that it disciplines you into language learning. Probably everyone who has tried to learn a foreign language knows that consistency and daily practice are hugely important. Teachers generally agree that spending, say, half an hour learning every day yields better results than exhausting 2- or 3-hour sessions, followed by a weekly pause. DuoLingo seems to understand that, and what it does is send you daily reminders to open the app and pass a few levels, which worked on us.
In the app, you also have your own little stats hub for every language, where you can see things like XP points, your learning streak (how many days you've spent learning a language in DuoLingo without daily pauses), and the amount of words you've learned. If we had to say a few words about the graphics and interface of the app, we'd summarize it as clean and simple. The green birdie mascot of the app is all around, and the sound effects are nice and encouraging.
All in all, while DuoLingo won't take you to near-native language proficiency, it's a great app for learners making their baby-steps in a language, and will advance you easily to intermediate levels of knowledge.
Pros
Makes language learning fun
Covers all four key aspects of language learning with engaging exercises
Pushes you to practice daily
Free
Cons
More languages would be welcome
| | |
| --- | --- |
| Developer: DuoLingo | Download: Android | iOS |
| Category: Language learning | Price: Free (with in-app purchases) |