Dungeon Hunter 4 arrives on iPhone, iPad and Android today
6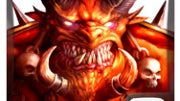 Dungeon Hunter 4, the latest edition of the popular role-playing game, has arrived on iPhone and iPad, and should land on Android in the coming hours.
The game arrives just as Gameloft promised on April 11th. It is free to download and for monetization relies on the in-app purchase model that seems to be universally hated from hardcore gamers.
Dungeon Hunter 4 is a heavy 974MB download and walks you through the epic story of the clash between two nations, the Valens and Kenashi. Your hero, a Valen soldier, wakes up on the battlefield after a tough battle. As the story unfolds, it turns out he might be the only hope for his nation.
In the game, you get to pick between four hero classes. It is a Diablo-like RPG, with stunning graphics. As you discover hundreds of types of enemies and fight bosses, the storyline slowly unfolds. You can of course speed it all up with in app purchases, something on which Gameloft is relying to monetize the game.
Once again, the app is available for iOS (at the link below) and should hit Google Play in the next couple of hours.
via
mobiFlip
(translated)