Dragon lights fire under iPhone's dictation capabilities
7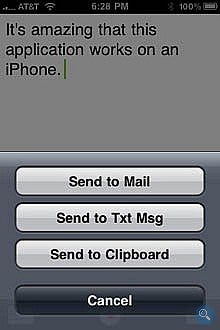 If you watch late night television, you might have come across an ad for the Dragon software that allows you to dictate letters on your PC. You might even have thought to yourself how cool this would be on your iPhone. Well, the time has come to see just how cool Dragon works with the Apple touchscreen device. It all seems easy to use. Open the app, press record and start dictating your letter. When finished, you can edit your work before sending it out as email, text or saving it to your clipboard.
The nuts and bolts are also fairly simple. What you record is sent to servers at Nuance where a speech recognition algorithm converts the spoken word to print and sends it back to your handset. This is done with astounding speed. TUAW conducted a test that showed that the process took 1 second over Wi-Fi and 5 seconds on 3G. The site said that the app performed very accurately except in a noisy environment. Things like a period, new paragraph or question mark can be added by simply saying what you want on your letter. Nuance says that since there is no human involvement in the transcription, security is tight. It is the same stringent security used for processing private info in other areas of Nuance's business.
Michael Thompson, senior vp and general manager for Nuance Mobile says that for now, the application is free but at some point, that will change. The exec sees all sorts of potential for this to be used in areas like the legal and medical fields. And of course, dictating a shopping list on the run seems like a productive idea as well.
source:
TUAW