Dots and Co adds companions to the puzzle fun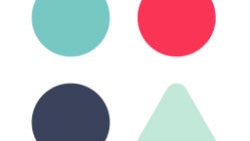 Dots and
TwoDots
are a couple of the best casual puzzle games available on mobile platforms, and now the developer has returned with Dots and Co., the third game in the series. As you might be able to figure out from the name of the game, the big addition in Dots and Co. are companions to help you through the levels.
If you've played either of the first two Dots games, you'll recognize the beautiful visual style and animation, as well as the simple-yet-addictive gameplay that has you connecting the dots (and making squares) to progress through levels. Of course, as noted, this time around you'll have various companions that have special powers and clearing the triangles will power up your companion, or you can use special tokens to supercharge your companion. In addition to your companion's power, you'll also have options to use specific powers similar to what you'd find in most matching puzzle games, like clearing a single dot or row.
As is standard at this point, Dots and Co. features in-app purchases to refill your token count, special powers, or lives. Dots and Co. does deal with lives in an interesting new way though. Each attempt will drop your life counter by three and if you win, your life counter will be restored based on the number of stars you earn by getting better scores.
Dots and Co. is available for free on both Android and iOS and includes in-app purchases ranging from $0.99 to $99.99.