Don't worry: you can sideload any APK on Nokia X
26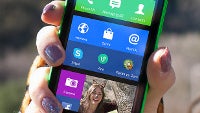 The
Nokia X is the first Nokia Android smartphone
, but it looks more like an Asha phone or a Windows Phone device with its tile-based interface and Fastlane notification aggregator. That's hardly a surprise - Nokia actually
"forked"
Android doing this, much like Amazon does with its Kindles, so that the X series can be a gateway to Microsoft cloud, not Google's.
Yet, while the Nokia X does not support Google Play, this being an Android, you can still easily sideload any Android app via an APK. APK is the file format for Android applications that you can get from various sources.
In particular, you seem to be able to download a custom Android launcher that will overhaul the look of the Nokia X to a more stock-like Android one. How do we know? A Nokia executive confirmed the fact that there are no limitations to the type of APKs that you can sideload onto the Nokia X:
Q: Can you sideload custom launchers?
A: You can sideload any APK file onto the device.
Yet, we have not checked for ourselves and the executive was a bit hesitant with this answer, so we'll just wait until we try this ourselves.
Interestingly enough, Nokia also confirmed that you should be able to sideload Google's apps as well, but some apps that require certain APIs might need to be recompiled.
Good news is that we should be able to try this out soon and give you a hands on look with a Nokia X running a sideloaded APK (hopefully, a custom Android launcher), so stay tuned.

source: Nokia