What to buy your kid if Apple doesn't release a new iPod Touch
12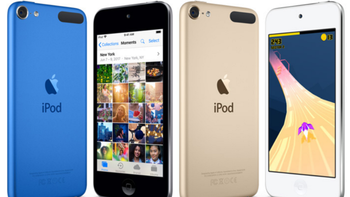 During the run up to Monday's Apple press event, the company released some new hardware in the form of a couple of new tablets. The 10.5-inch
iPad Air (2019)
and the 7.9-inch
iPad mini (2019)
are now available for pre-orders, and both slates will be released on Tuesday.
We also saw Apple finally introduce the sequel to the AirPods
, the tech giant's very successful wireless Bluetooth ear buds. While we didn't get from Apple everything rumored such as a new color option and water resistance, the accessory now has longer battery life, Always-on Siri and wireless charging capabilities.
That leaves two pieces of hardware yet to show up, and one of them could surface any day now. Apple's AirPower wireless charging pad was announced in September 2017 at the same time as the
iPhone 8
,
iPhone 8 Plus
and
iPhone X
, but has not appeared since. The pad can wirelessly charge an iPhone, and Apple Watch and the AirPods carrying case (with or without the AirPods inside) simultaneously. An press image of the AirPower, similar to previous pictures Apple has released of the product,
was found in the source code for the company's Australian website
. While Apple could make a splash at Monday's event by finally announcing a launch date and pricing for the accessory, that doesn't seem likely considering that Monday's gathering will reportedly unwrap new subscription services being made available to iOS users including the new Apple News ($10 a month for access to publications like
The Wall Street Journal
).
The streaming video service that Apple will announce on Monday
will apparently not take the form that many expected it to
. Originally rumored to be a competitor to Netflix, Amazon and Hulu with original programming, it now appears that the service will actually be a storefront offering other streaming video subscription services to iOS users. Apple, of course, would get a slice of the pie. Maybe later down the road, we will see original Apple programming offered.
So what is missing? We've covered the iPads, AirPods, AirPower and the two subscription services. Ah, that's right. There has been talk about a seventh generation iPod Touch. The iPod Touch is basically a stripped down iPhone without a radio or a modem. Or, it can be seen as a fancy MP3 player with a touchscreen. The last model was released in July 2015 and features a 4-inch screen, powered by the A8 SoC. There is an 8MP rear camera and a 1.2MP FaceTime snapper in front. The device connects to the internet via Wi-Fi, and is basically a way to get indoctrinated into the Apple/iOS ecosystem without spending so much on an iPhone.

Don't wait up for a seventh-generation iPod Touch

According to PCMag
, we are not going to see a new iPod Touch unveiled. If that is the case, the
sixth-generation iPod Touch
starts as low as $199 for the model with 32GB of storage, and the version with 128GB of storage is $299. Meanwhile, a previously owned 64GB
iPhone 6
can be purchased from Gazelle for $199. While you're not getting a brand new unit like you would be by buying an iPod Touch, if you're looking to give an iPod Touch to a child, you might be better served to have the phone functionality available just in case your kid needs to get in touch with you. In addition, the iPhone 6 has a larger 4.7-inch screen and a much larger battery.
If you don't mind paying a little more, you can
pick up the iPhone SE on clearance for as low as $249 from Apple
. These are new, unlocked models with 32GB of storage (128GB costs $299). While the screen size is smaller than the iPhone 6, at 4-inches it matches the iPod Touch and tops both with a 12MP rear camera. The iPhone SE was originally designed for those seeking a phone with a smaller screen, and one that didn't leave a hole in their wallet.
Throughout last year
there were rumors and renders surrounding a sequel to the iPhone SE
. So why isn't Apple releasing an iPhone SE 2? Since Apple stopped providing Wall Street with quarterly numbers on iPhone shipments, analysts are focusing more on the Average Selling Price (ASP) of iPhone units. An iPhone SE 2 would undoubtedly lower Apple's ASP and worry investors. Believe it or not, that is a valid reason for Apple to 86 such a device. The official reason was that Apple wanted to focus on its models carrying a larger screen.
So those looking for an entry level iOS device for their kid can go with the iPod Touch 6th-generation for $199 and up, a used iPhone 6 for $199, or an iPhone SE for $249 and up. Or, you can just tell your kid that when you were his age, you had to use a bulky feature phone and get him/her a flip phone instead.